For years and years, I pretty much never cooked.
When I was a kid, my parents did all the cooking and I wasn't particularly interested in it.
When I was in college, I experimented a bit (mostly with the goal of bulking and consuming tons of protein), but just made the same few dishes over and over.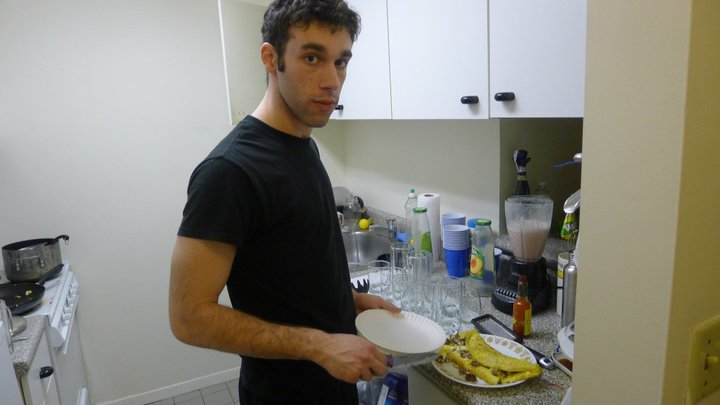 I also drank a full gallon of milk every day for a while, but that's a story for another time.
After college, I also made the same few basics over and over again (like sandwiches, pasta, and bowls of cereal) – but I ate out a ton because it was convenient and I could afford to. Also, no place like NYC to eat out.
But then I quit that job to bootstrap not just one startup (Art in Res), but two (Mini Exhibitions).
I needed to eat cheap, but I still wanted to eat well. So I consumed – conservatively – thousands of YouTube and Tiktok cooking videos and taught myself to cook all the things I wanted to eat.
These days, I have a full-time job at a startup studio, Superset. But those bootstrapper-era constraints are still my guiding principles. For me, the best recipes are:
Cheap
Efficient (in terms of prep time and cleanup)
Reheatable and/or storeable with some shelf life
Modular
Tasty (obviously)
In an effort to keep improving my skills, and not fall into a "I'm good enough" cooking rut, I make a new dish every week.
Here are the last 40 or so. Maybe you'll be inspired to try one or two out. I'll also drop links and references throughout.
Chicken cracklings (ie; roasted chicken skins)
I'll always peel and roast the skin from a rotisserie chicken from now on. This stuff is legit better than bacon. A link, but it's really pretty basic.
Jar-shaken butter
Honestly, not really worth it; but could be useful in a pinch (especially if you keep heavy cream on hand like I do).
Pressure cooker chicken stock
This stuff tastes so good, and it's a good way to use up the mirepoix-y vegetables that are getting a little stale in the crisper drawer. I just used the carcass from a rotisserie chicken.
Dutch baby
This one gets big thumbs up from the adults and kids – and it's fun for everyone to make together. I went by the NYTimes recipe.
Oreo-butter stuffed crepes
One of my kids demands crepes at least once a week. This week, we broke out the molcajete, smashed up some oreos with a little cream, and filled a few crepes with the resulting "cookie butter." It was a frighteningly efficient way to consume Oreos.
Pumpkin spice syrup
My partner likes pumpkin spice coffee drinks but they're like $6 a pop at the coffee shop, so I decided to make the syrup at home. Great flavor, but I struggled to get a good, non-sludgy consistency. Link if you want to make your own spiced pumpkin sludge.
Blueberry lemon pancakes
Usually I'll just make some pancakes and throw blueberries in. But adding a little lemon to the batter really set these off.
Blueberry jam
We bought a copious amount of blueberries at the farmers market, so I turned them into jam once they started to turn.
Feta cheese foldovers
This was my first time working with puff pastry, which is kind of a pain in the ass. But these were pretty good – I topped with honey and sesame seeds. Probably won't make again, though.
Baked shrimp
Maybe I'm doing something wrong, but baked shrimp kinda sucks. They were sort of rubbery and soft, so I think I'll stick to pan frying. In general, I think shrimp are more trouble than they're worth, and kind of pricey too.
Baked boneless skinless chicken tenders
The kids often want "plain chicken," and the adults can easily zhuzh this up for salads, wraps, sandwiches, etc. This is so far the best way I've found to bulk prepare it.
Homemade milkshakes
I used the Adam Ragusea tutorial, which is more of a format than anything. These were amazing and super easy to make with an immersion blender.
Garlicky sauteed spinach and leek
We always have some about-to-go-bad spinach in the fridge, but I find regular spinach to be a stringy globby mess that I choke down for health reasons. Adding some leek did wonders for the texture and added some nice allium-ness to the equation (along with the garlic).
Cocoa Puff marshmallow treats
This was a late night craving, and tasted good, but kind of looked like spider eggs.
Patty melts
Patty melts > cheeseburgers. And I love cheeseburgers. This was a certified slapper. I loosely followed Sam the Cooking Guy's recipe.
Mango toast
One of our nieces recommended we try this, and it was pretty good! Basically buttered toast with mango on top; sort of a chunky jammy toast vibe. I think I prefer mango on its own, though.
Chicken tikka
I tried my hand at our go-to Indian food order, and it was absolutely delicious. I was kind of pessimistic that it'd stand up to our go-to restaurant's version, but it actually blew it out of the water. A lot of work and cleanup, though, or I'd make it all the time.
I used Joshua Weissman's recipe.
Papad (various)
One of my work friends, Pooja, sent me the papad that she makes with her family – all the way from Kerala in India. And what a care package it was: 10 different varieties, each tastier than the last. Fun to cook, too.
Dark 'n' stormy
My parents brought back some rum from Bermuda, and some ginger beer to go with. Never had one of these before, but they're excellent.
Truffled scrambled eggs
We have a newborn who is not tolerating dairy proteins, so I've been trying to whip up some dairy-free – but still creamy and delicious – dishes for my breastfeeding partner to enjoy. The inclusion of truffle oil turned an otherwise ordinary egg dish into something pretty special.
Beets
Just straight-up beets. Never cooked 'em before. I did 'em in the oven with olive oil, salt, and pepper. They're pretty good!
Blistered green beans with crispy chili oil
I always get these when I see 'em on a Chinese food menu, so I decided to make 'em myself. They were deceptively labor-intensive for such a simple looking dish, but they tasted great. I followed this recipe.
No-bake peanut butter chocolate bars
Made these to satisfy a craving. Obviously they were delicious, but I just felt like trash afterwards.
Chicken caesar salad wraps
Sort of a joyless meal to cook and consume, but definitely convenient and reasonably healthy.
Chocolate ganache
Dead easy to make in the microwave, and the kids are always begging me for chocolate-covered treats (e.g. strawberries, pretzels), so this was a good one for the arsenal. Shari Mukherjee taught me how to make this.
Irish soda bread
I dream about this bread from the couple trips I took to Ireland, and it was actually not too difficult to make something comparable. I'm the only one in the family who likes it, though, so I probably won't make it too often. This was another Shari Mukherjee recipe.
Tomato confit
For a number of reasons, this is now a go-to for us. It tastes great, it's (I think) reasonably healthy, it's super easy to make, and my partner's mom is always giving us heaps of beautiful cherry tomatoes that she grows.
Tomato sandwich
The farmers market near us sells these huge, juicy heirloom tomatoes that make for a great sandwich. This is also a new go-to because it's easy, refreshing, and super satisfying. My friend Eric Kim inspired me to try these – they're in his cookbook.
Bagel chips
Another farmers market thing – I buy lots of bagels at a time which I occasionally forget to freeze. But like making croutons, this is a really simple way to take stale bread and make something a little more shelf-stable.
Sushi rice
Sushi rice is so insanely good and totally worth the little bit of extra work to season it. Also the techniques of mixing and cooling the rice (which I suck at, but whatever) are really satisfying and fun.
Salmon rice bowls
Sometimes I have these without sushi rice, and it's serviceable that way, but you really need the tartness of the rice vinegar and kick of sweetness. This is now a regular part of the rotation and we mix-and-match the toppings based on what we have lying around, so points for modularity.
White bread (in the breadmaker)
My parents found our old breadmaker – complete with the original sticker showing it passed a Quality Assurance inspection in 1993. The thing still churns out great loaves of bread and our kids love it.
Milk bread (in the breadmaker)
We also made "milk bread" with milk powder, which felt like an interesting science experiment, but didn't taste so different from the regular white loaf. Making a proper milk bread is on my list to try sometime.
Cinnamon-tossed apple slices with peanut butter
When I went to my childhood friend David's house, his mom would always serve us apples with peanut butter. I tried tossing the apple slices in cinnamon and it was so good that this is my new favorite way to enjoy this nostalgic favorite.
Spicy honey syrup (for cocktails)
This was an unwitting collaboration between the parents (mine and my partners) – hot peppers from her mom, and honey from my beekeeping dad. This stuff was awesome; I had a little bit but gave most of it away as a gift to a mixologist friend.
Lazy pizza with grocery-store dough
I never actually used the grocery store pizza dough before, but it actually makes a pretty tasty (if sort of bready) pie. It's easy enough that the kids can basically do the whole thing.
Chicken riggies
This is a Utica, NY specialty that's somewhere between penne alla vodka and chicken tikka masala. It's super good. My partner showed me how, but here's a recipe to check out.
Quick Detroit style pizza
This is my go-to pizza recipe – but I think you really need one of the Lloyd pans (or something similar) for it to come out great. You can buy one here on Amazon – not cheap at $60, but worth every penny.
I use Ethan Chlebowski's recipe.
Pickled red onions
Speaking of Ethan Chlebowski, I made pickled onions the very slightly more labor-intensive way (not the lime juice quick-pickle) and it was 100% worth the extra 5-10 minutes. Recipe.
Mega onion focaccia
I am an onion and allium lover through and through, but this was even a little much for me. I caramelized three types of onions and absolutely slathered this thing with them. It was still pretty damn good, but needed some other complementary flavors in the picture.
I use Joshua Weissman's foccacia recipe which is just next-level.
Mushroom risotto
Despite how labor-intensive this dish is, I ended up making it a bunch more times because it's just so good. I wish there was an easier way… Also, pretty neat that you can get such a creamy dish without milk – I always figured there was some milk (or cream)! Chef Tracey showed me the way.
I usually write about startups and tech, not food. But if you want to read an essay I wrote about tortillas, go for it.
posted 13 oct 2023